FiberFIT Home
:

process FttH measurements automatically

Do you want to automatically manage and read out OTDR fiber optic measurements? And do you want to be able to link the data to a registration system? Fiber Intelligent Testing stands for being smart with measuring data. With FiberFIT Home you link the measuring results directly to a house or a unique FiberID.
FiberFIT Home
Quickly make FttH projects transparent
.
With FiberFIT Home, you can have measurements taken on location (with predetermined criteria) and manage them centrally. The measuring results are immediately saved, secured and linked to the postal code + house number or a unique FiberID.
Synchronization with the cloud makes it easy and fast to have all data available. Through the API you can also automatically link the data with other systems, such as FiberConnect, Workon (Cocon) and GeoStruct. With FiberFIT Home you can create a complete overview.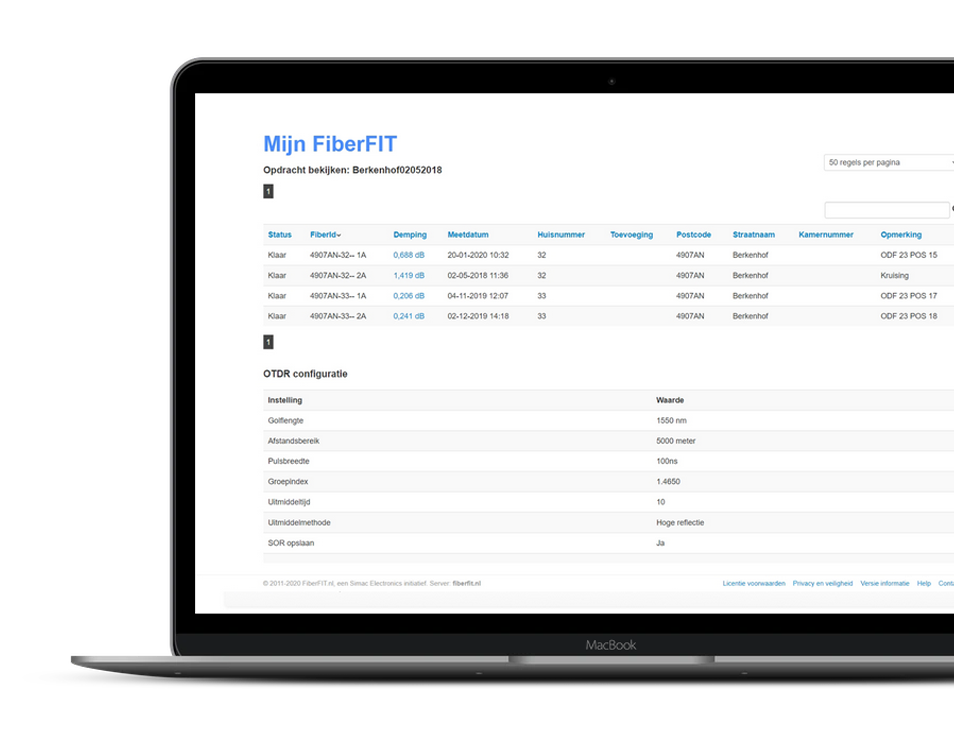 We save time and are always up to date
.
Direct link
Benefits of FiberFIT Home
.

Certainty & quality: always work with the correct data

Save time: more efficient preparation and result-processing saves hours every week

Fewer errors: thanks to uniform naming and uniform measuring settings

Uniform measuring conditions and results: through security per assignment and automatic setting in the OTDR

Various registration options. Not only damping value, measurement date and time based on postal code/house number (and/or FiberID). But also who did the measuring, with what tool and how much is the reflection loss.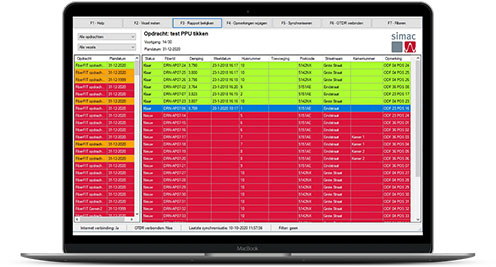 Frequently asked questions
.
What is Fiberfit home?
FiberFIT Home is a combination of a computer program and a web application. This combination allows you to easily perform and administer 'Fiber-to-the-Home' measurements and more. You can easily export the data of the measurements from the cloud to file formats and/or other services you want to share your data with. This total solution makes it easy to perform large-scale measurements without losing sight of quality.
Do I need a server to install software?
No, FiberFIT Home is cloud-based. This means that the servers are located in our data centres. All processes that ensure that measurement orders and measurement data are handled correctly run on them. However, the measuring technician or dispatcher must install software locally on the laptop to manage the OTDR.
Is my data on the network and on the server safe?
Yes, FiberFIT Home uses secure data centres, the data is encrypted and the processes are ISO 27001- certified.
Which OTDRs can I use for FiberFIT Home?
You can use the Yokogawa AQ7270, AQ7275, AQ7280, AQ1200 and AQ1210, supplied by Simac Electronics B.V.
Does my laptop always have to be online to measure with FiberFIT Home?
No, once synchronized with the cloud server, the laptop can also work offline with the OTDR to take measurements. The next time you login in with an online internet connection, the measurement results will be sent to the cloud server. However, we recommend working online as much as possible so that the server and laptop always contain the current data.
Can FiberFIT Home work with other software?
FiberFIT can easily work with your own software, using the XML API. This is available for the web application. You can use the API by calling up specific URLs, so almost any other program can easily collaborate with FiberFIT Home. To use the API you need a key, which you can request by contacting us. If you do not have an ICT department or a party that can provide the link between your software and FiberFIT, we will be happy to discuss with you how we can help you.
How do the measuring assignments get into FiberFIT Home?
They can be added manually with a .CSV file with the web application, for example from a schedule. This can also be done fully automated from workflow systems using the API commands. In this way, the measurement data can also be exchanged between systems.
Is it possible to follow a training course on how to implement and use FiberFIT Home?
Yes, we provide training to Owners, Project Leaders and Centralists in the use of FiberFIT Home. OTDR training can also be part of the FiberFIT Home training.
Who is FiberFIT Home intended for?
FiberFIT Home is intended for all parties who install and (especially) measure Fiber-to-the-Home networks. Both main contractors and subcontractors in the field of PoP assembly and home connections (HAS) can use FiberFIT Home to optimally automate their workflow. FiberFIT Home enables faster delivery and therefore faster billing.
Would you like to find out more?
Are you curious what FiberFIT Home can do for you as an owner, manager or operator? Our specialists will be happy to assist you. Would you like to immediately find out how it works? Request a demo now.