Efficient fiber optic
network control

FiberFIT Live
Optimisation of quality fiber optic networks
.
Spear IT and Simac Electronics have launched the link between Cocon and FiberFIT Home and FiberFIT Monitoring! In the meantime, both companies are steadily working to further optimize FiberFIT Home and FiberFIT monitoring to be able to predict the quality of fiber optic cables even better.
Fiber optic networks are continuously expanding and this also applies to the measurement data that is released during testing, delivery and maintenance. The smart way to deal with measurement data is Fiber Intelligent Testing. FiberFIT. In the ultimate standard fiber optic registration system Cocon, this measurement data is made visible in both a geographical and a non-geographical layer.
Advanced monitoring of your fiber optic network
A fiber optic network must be reliable. That is why monitoring for malfunctions, intrusion (fiber-tapping) and degradation is so important. FiberFIT Monitoring tests, measures and predicts possible future network problems, so that you can prevent them. FiberFIT Monitoring provides the tools you need to carry out this network monitoring efficiently. Live dashboards and configurable alarms provide instant insight into the network problem and ensure a quick response and short recovery time. In this way, the network owner can guarantee higher availability to its customers, without having to use their equipment to report malfunctions. Thanks to continuous measurement and monitoring by FiberFIT and having the results forwarded to Cocon where the data is being processed, you always have a realtime overview of the availability in your network.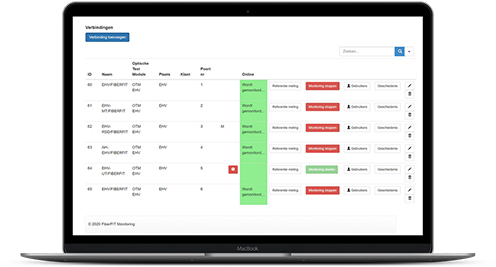 Cocon & FiberFit Home
Quickly make FttH projects transparent.
With FiberFIT Home, you can have measurements taken on location (with pre-set criteria) and you can manage this centrally. The measurement results are instantly stored, secured and linked to zip code + house number or a unique FiberID.
By synchronizing with the cloud, you can easily and quickly access all data. Through the API you can also automatically link the data with other systems, such as FiberConnect, Workon (Cocon) and GeoStruct. This way, you can create the total overview with FiberFIT Home.
Cocon
Cocon enriches the measurements made with FiberFIT Home and FiberFIT Monitoring with an exact location.
A prediction of the quality of the fiber optic cable can be made via Cocon and FiberFIT by continuously storing the measurement data generated by FiberFIT Home and FiberFit Monitoring. This ensures even better management of the fiber optic network.
If you would like more information about the possibilities, please contact us at info@fiberfit.eu.